uPVC Casement Door System
uPVC Casement Doors consist of single or double Sash opening outside or inside, it is connected with 3D-Hinge at four points on the frame, which makes the Sash more durable. A partition can be provided using Mullion profile. Different combination of door casement can be made as per the customer requirements. Multipoint lock and key extra also provide extra security to the system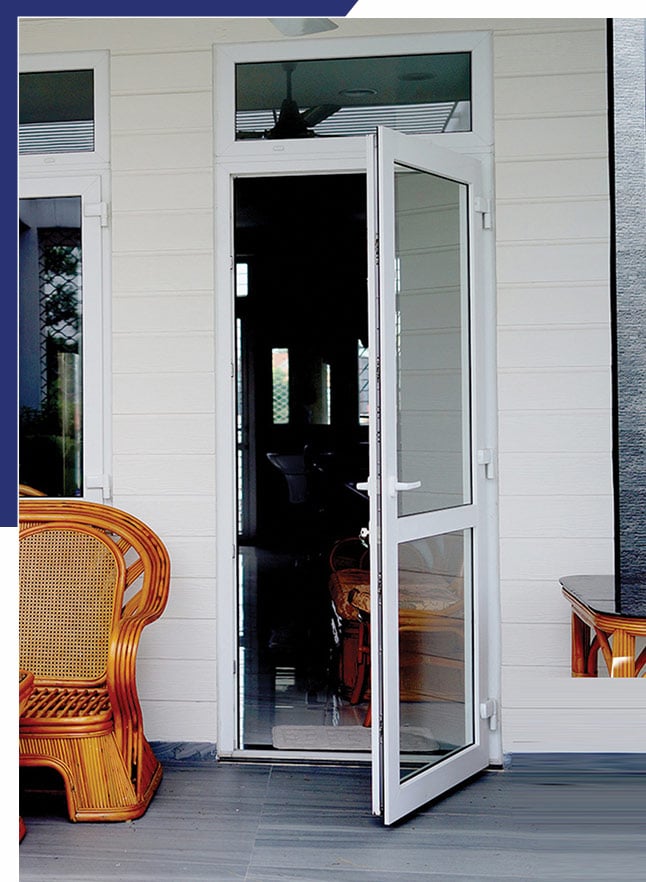 Right Product & Right Choice
Benefits of

uPVC Casement Door
Combination Door

uPVC Casement Doors consist of single or double Sash opening outside or inside, it is connected with 3D-Hinge at four points ...

Sliding Door System

uPVC Sliding Doors two or more frames slide horizontally on tracks to the left or the right. The Sliding Doors are slightly raised...

Folding Door System

Bi-folding door systems generally need to be fully open or fully closed. Inherently, this restricts the usability of a bi-folding door...
Casement Window

Casement windows are hinged on the side and open outward to the left or right. Usually taller than wide, their entire sash opens...

Sliding Window

Elegant horizontally sliding windows for restricted spaces like cubicles, interior partitions and narrow balconies using quality...

Sliding Windows with Bug Mesh

Prevents entry of insects and mosquitoes into home, Offers good ventilation...

Bay Window

The stylish and highly practical option of window space that can function as an extra seating space or as a secluded light filled work space..

Fixed Window

These are windows that are used purely to let light in and provide a view but do not need to be opened or operated because there are no ventilation..

Combination Window

Two windows of the same type or different types can be combined to produce combination windows. These are usually combinations..

Tilt & Turn Windows

European style windows can be swung like a door or tilted at the top. Optimal security, streamlined designs, and high-performance...

Tilt & Turn Windows

Glass Joint Window is synonymous with style. These windows allow an unobstructed view of the outside world. Quite simply...
Let us help you to choose the right one
YOUR WINDOW – YOUR COLOUR – YOUR CHOICE!
Memories may fade, but not the colour of your doors and windows.
Our Clientele. Our Valuable Assets
Testimonial
Our Client
say.
98% of our reviewers say they would recommend us